2023 State of the Duke Climate Commitment
The Duke Climate Commitment is a call to action for the entire institution that has been answered at multiple levels of the university and the Health System. Following two years of campus-wide convenings, Duke formally announced its Climate Commitment in Sept. 2022. One year into this initiative, we report on the programming, events and funding opportunities that have furthered Duke's actions toward a resilient, flourishing, carbon-neutral world.
In the year since the Climate Commitment's launch, and following $36 million in inaugural gifts, work across all parts of campus has helped Duke leverage its proven expertise across five pillars to ensure our work has local, global and regional impact.
298
climate- and sustainability-related classes offered in Spring 2023 and Fall 2023
300 students talking about climate change in UNIV 102
38% reduction in on-campus emissions since 2007 baseline levels
>300 practitioners, thought leaders and policymakers who attended the Winds of Change symposium convened at Duke in March 2023
$2.4M in seed funds awarded through University Collaboration Grants, Climate and Health Data Expeditions, and Climate Research Innovation Seed Program
We seek to educate and empower a climate-and sustainability-fluent campus community and alumni network that understands anthropogenic climate change and its origins and is well-equipped to address it by innovating and implementing creative, scientifically-informed, just and responsible solutions; create an immersive, interdisciplinary educational ecosystem for learning about climate and sustainability in and out of the classroom.
We want to conduct and support interdisciplinary research to develop and deploy just and equitable climate solutions through the Commitment's four research thematic focal areas (energy transformation, climate and community resilience, data-driven climate solutions, and environmental and climate justice), building a connective architecture that moves climate and sustainability research from ideation to reality.
These internal grants, administered by the Nicholas Institute, were the first in a series of opportunities for Duke scholars to convene new collaborative research teams around climate-related challenges.
Duke's first data-driven Climate Expedition gathered researchers from across the university to focus on existing and emerging challenges posed to human health by climate change.
This Nicholas Institute seed grant program accelerates ongoing climate research across Duke by offering eligible faculty and research staff a total of $600,000 in funding.
We will implement sustainable strategies and infrastructure in campus operations, so that the physical footprint of Duke University reflects climate-forward practices.
We engage with decision-makers and practitioners outside the University, advancing our capacity to serve as an honest broker and convenor to bring parties together to tackle challenging problems.
The Climate Commitment will build community connections in cooperation with the Duke Office of Durham and Community Affairs. We seek to respectfully and responsibly co-create solutions to meet our community's needs. With Abdullah Antepli, Duke's associate vice president and vice provost for Community-Engaged Research and Teaching, the Office of Climate and Sustainability will advance capacity-building for climate and sustainability work in the Durham and Triangle communities.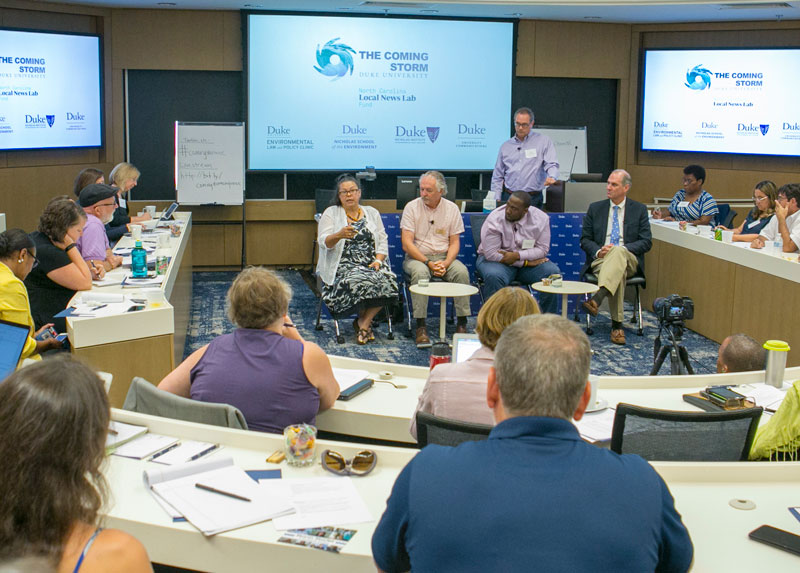 Highlighted planned programs, projects, and activities for the 2023-24 academic year
Download the full report for all the details on the activities of the Duke Climate Commitment over the past year and sign up to receive emails from the Climate Commitment for for updates.
Explore more highlighted programs and events, beyond those stemming from the initial $36M gifts, that reflect the progress of the Duke Climate Commitment during the 2022-23 academic year to launch.